If you are in immediate need of expert panel beaters Thornbury service area, then call Pierce Body Works. There are many reasons to take swift action, and we will respond to you and set everything in motion. Of course you want to only use highly qualified, expert car repair specialists. All you need to do is look at our operations. You will see ongoing repairs on all aspects of vehicles and not just auto bodies.
Have Questions About Our Auto Body/ Smash Repairs Thornbury ?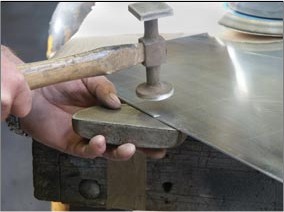 We understand that sometimes it's not convenient to get away at the drop of a hat. The solution to that is give us a call. We can answer all of your questions and discuss your needs in-depth. We can cover questions about auto panel replacement parts, panel repair procedures, and pricing. In addition, any questions of a general nature are welcomed. You will find our call representatives to be polite and extremely knowledgeable.
Every step in our service is designed to help, support, and satisfy every need you have. Our philosophy is that our business is more than panel beating or repairing cars. There is more to your story, and every customer has their unique story and needs.
If you visit us, you will find we use state-of-the-art technology as well as time-tested techniques. Some things cannot be improved upon, and it takes many years of experience to make that discovery. And all of our work is performed strictly according to existing standards. We believe our processes and repairs are second to none, not only in Thornbury but elsewhere.
Panel Beaters in Thornbury : A International Compliance and Accountability
Our entire work process operates in accordance with ISO 9001 Global Standards. ISO represents the International Organization for Standardization. This is a complex category of standards with the purpose to maximize customer satisfaction. This goal is achieved by producing and delivering the highest quality services and products. Pierce Body Works is audited to ensure we are in full compliance with ISO 9001 standards.
That means we are accountable to each customer and a Global Standards organization.
Our panel beaters are fully trained and have amassed an impressive number of years worth of professional experience. Very rarely are two jobs exactly the same. That's why it is imperative that we have a chance to analyze the damage on your car. You are always more than welcome to call ahead to get basic information and answers.
Along with ensuring your car is repaired properly, we are always concerned about safety. That concern moves us to look for additional damage caused by the accident. You may be able to drive the car, but you have no idea if critical safety components are damaged.
So give us a call right away or pay us a visit as soon as possible. You will get answers to your questions in a relaxed environment.