There are many misconceptions out there today regarding childs safety seats. Some of the advice available makes very good sense while others should be avoided at all costs. There is much more to consider when it comes to your childs safety than simply the cost or brand. The following article by Jody Gatchell goes into detail about the pros and cons of children's safety seats and what you must avoid.
The most common dilemma of most parents is choosing the best baby car seat from among the so many variations (each with its own safety feature) that is being sold in the market. The answer to this is whatever fits the baby comfortable, fits in your car snugly and is within the budget is the best baby car seat that anyone can find.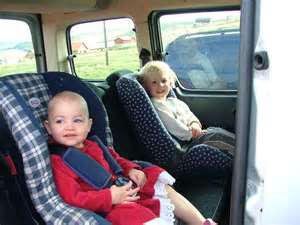 All baby car seats, and for that matter everything that has to do with vehicle safety, has to pass, the same federal crash testing and safety measures. Baby car seats that are approved by the government has the assurance of safety, the standards is set has to be passed by all manufacturers. Needless to say, even the cheapest baby car seat sold in the market has gone through the same crash tests and will always protect the young against crashes provided these are properly installed.
Extra features are fine but these add up to the cost of the baby car seat. Higher prices do not always mean the best, as there are no best car baby seats. Some extra features will only be meaningful if it can be used but the car seat must fit the baby first.
Once you have chosen a baby car seat that you like, the next item on your list is to read the manufacturer instruction manual. The most expensive and multiple featured baby car seat will not be of any use if the manufacturers manual is not read thoroughly as those may have special requirements about special fitting and use.
In any event, the same rule will apply. Children and infants that weigh below 20 lbs. should be seated facing the rear of the car. If the child is already one year old and still below the required weight limits the appropriate car baby seat must be the convertible type but the child still has to be seated facing the rear. The convertibles can be fitted to face the front, which could be a good preparation when he/she exceeds the weight limit.
Infant-only seats are small portable seats that often are a part of a stroller system. It has three to five point harnesses and can be used for children up to 22 lbs. The seat usually comes with a detachable base for convenience as it means that you do not have to install the seat every time it is used.
Read complete article here…